Integrated Circuits
Integrated circuit or IC or microchip or chip is a microscopic electronic circuit array formedby the fabrication of various electrical and electronic components (resistors, capacitors, transistors, and so on) on a semiconductor material (silicon) wafer, which can perform operations similar to the large discrete electronic circuits made of discrete electronic components.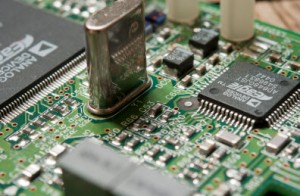 As all these arrays of components, microscopic circuits and semiconductor wafer material base are integrated together to form a single chip, hence, it is called as integrated circuit or integrated chip or microchip.
Electronic circuits are developed using individual or discrete electronic components with different sizes, such that the cost and size of these discrete circuits increase with the number of components used in the circuit.
ICs
Showing 1–15 of 29 results
Showing 1–15 of 29 results