4xxx Series ICs, Electronics Components, IC
CD4008 4 Bit Full Adder IC
SKU: IC0050
---
Product Details :
| | |
| --- | --- |
| IC number | CD4008 or 4008 IC |
| Function | 4 bit full adder |
| Number of pins | 16 |
| Mounting type | through holes |
| Packing | PDIP-16 |
₹28.00
5 in stock
This IC is a high speed, high voltage 4-bit full Adder IC with carrying out features. The IC has four separate stages of full adder circuits in a single package. It is commonly used in applications where arithmetic operations are involved. Although today we have cheap microcontrollers that could perform all arithmetic operations required for our application, in the early days the ICs like Adder, Counter, flip-flops, etc were used for the same. This way the complexity and the BOM cost of the circuit design will greatly go low.
The CD4008 is a Full Adder with Carrying in and Carry out features. It is a four-stage 4-bit counter, meaning it has four individual Full adder circuits each of 4-bit inside a single package. It can also be easily cascaded if more than four stages are required.
Specifications:
4-bit Full Adder with carrying Out
Nominal Operating Voltage: 5V, 10V, 15V
Maximum Operating Voltage: 20V
Sum-in to Sum-out time: 160nS
Noise Margin when operating at 5V: 1V
Maximum Input Low Voltage: 1.5V
Minimum Input High Voltage: 3.5V
Available in 16-pin PDIP, CDIP,SOIC, TSSOP packages
Applications:
High-Speed Arithmetic operations
Miniature calculators
Counters
Simple logic control designs
Pin Description:
| | | |
| --- | --- | --- |
| Pin Number | Pin Name | Description |
| 1,3,5,7 | A1, A2, A3, A4 | First Input for the adder circuit (Four pins for four stages) |
| 15,2,4,6 | B1, B2, B3, B4 | Second Input for the adder circuit (Four pins for four stages) |
| 9 | CI | Carry Input – from the previous stage if present. |
| 10,11,12,13 | S1, S2, S3, S4 | Output pin for the Adder circuit (Four pins for four stages) |
| 14 | CO | Carry Out pin to cascade with other ICs. |
DIMENSION/LAYOUT: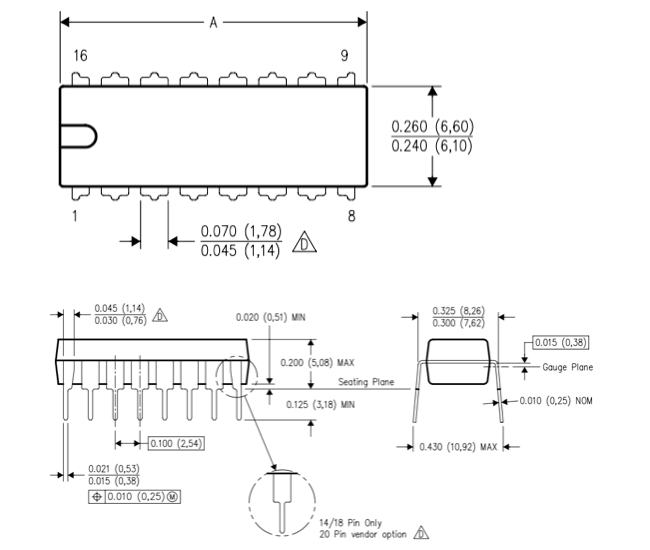 Package contains
1 x 4008 4-bits full adder IC